We Can Transform Your Home !
We can turn ideas into reality!
Backsplash IDEAS.....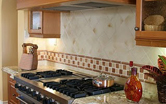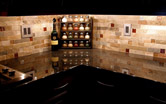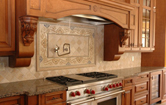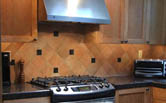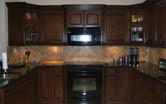 Floor Tile IDEAS.......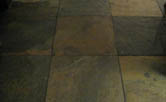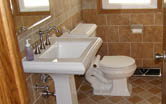 Our Favorite.. Real Brick Flooring !!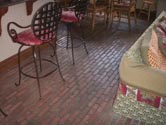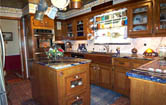 What can we custom design a floor, countertops and cabinets to make it the perfect Bathroom or Kitchen remodel for you.
Give us a call today!
Tile and Slate and Brick Flooring, Tile and Granite Countertops, Tile Backsplash all add to the charm of a Kitchen or Bathroom! Add some Custom Cabinets and you have the makings of a fabulous room.
There are many choices in flooring these days. Porcelain and ceramic tile offer beauty, durability, and unlimited design possibilities. If you have never considered tile flooring before, you will be amazed at the variety of colors, patterns, large sizes and textures available to you. Also Brick Flooring is another option you might have never even considered. We have many choises when it come to brick flooring. Patterns such as Herrigbone and Breadbasket and running bond are the most popular styles.
As for the subject of REAL Brick Flooring.
Bricks can create almost any look in your home, from casually elegant to practical and welcoming. It's easy to care for and durable. Since you can lay it in any number of patterns, you can create the right look for your home.
Brick flooring consists of thin tiles (usually 1/2" and 15/16" in thickness) that are applied to floors with mortar or other adhesive. The result is a warm-hued and natural floor that can last for many years. For the customer, a brick floor offers:

•fade-resistance
•fire-proof
•resists wear and tear
•anti-slip surface
•beautiful, rustic textures
•Not any harder to clean than a tile floor.

Brick flooring challenges include:
•uneven surface
•rough texture

Interior brick flooring is made by combining finely ground clays, shale and raw materials to produce hard surfaces. The materials are pressed, cut, and fired in a kiln at high temperatures. The result is thin brick flooring tiles that have the durability and beauty of brick and the convenience of tile flooring. Most manufacturers will apply a sealant or a chemical mixture after firing to seal the porous brick surface to make cleaning easier. Most brick floors will have to be resealed after installation to ensure they are easy to clean.
A brick flooring interior can be not only attractive but also quite durable. Brick floors vary widely in hardness, depending on the actual combinations of materials that go into their production. Brick floor tiles that have been made from poorer-quality or coarser-ground materials are more porous, softer, and more likely to chip and crack. Higher-quality brick tiles have a hardness comparable to some ceramic tiles, especially when sealed or treated. In general, customers can often find brick tile floors with a Measurement of Hardness (MOH) rating that is 5 or 6.
Brick floors have been trusted throughout history as practical and durable flooring options. Bricks are in fact considered humanity's oldest manufactured building material. They have been used since 1330 BC for walls, roads, monuments, floors, and other crucial building projects. When you decide on brick flooring, you are choosing a truly historical and well-established option for your home.
Brick floors can sometimes be rough and uneven much like a slate floor. Brick vinyl flooring provides a smooth and durable surface, while still retaining the beauty of natural brick.
Despite the few disadvantages, Indoor brick flooring is still a good choice. Thin brick flooring provides beautiful and lasting floors for almost any room of the house. Cleaning brick flooring is generally quite simple, as most brick floors are treated and glazed. To clean these floors, a mop or broom is all that is needed. Brick floors can also be vacuumed. Many patient do-it-yourselfers do find that installing brick flooring is possible with a little perseverance and determination. By far the best advantage of brick floors, though, is their elegant durability. Bricks have been used on roads and have been used to create buildings. If brick can make long-lasting roads and buildings, you know they will stand up to years of foot traffic in your home.
If you have always wanted a unique, rustic flooring option, brick flooring is a great choice. The fire-proof and fade-proof brick floor is perfect for adding years of beauty to your home, while increasing its value too.

Here are some patterns for flooring & Backsplashes in Brick or tile.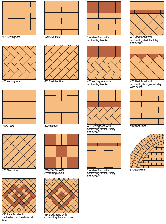 We can help with more design ideas as well.
We really like granite countertops...Some Advantages of Granite Countertops are:
Variety - Granite as a material for countertops offers a range of colors and patterns from which to choose

Esthetic Appeal - Granite countertops represent a unique look from batch to batch. Your countertop will stand alone as a visual feature that is unmatched by any other

Durable - Granite countertops are extremely durable. Granite countertops will resist heat and metal abrasion, which is important in a kitchen setting

Dense - Granite is a dense material. Even though it needs to be sealed, granite will resist staining

Increases property value - Granite is known as a high-end countertop solution. This means added value to your property as a whole

Nevada Trimpak Can Help!
or Call (775) 851-4467 - Leave a message if we are out, we will get back to you ASAP
Why wait any longer? Call today!